To build and renovate a home requires close cooperation between general contractors as well as subcontractors who are skilled at building new homes and remodeling existing ones. The home renovation process in the US involves remodeling external and internal structures and systems, including gardens, garages, lawns, HVAC and Water systems.
In 2018, the home improvement industry transacted a whopping $394 billion in the US alone. It's hard to believe, right? Well, if you consider the fact that homeowners undertake renovation projects to reconstruct their basements, HVAC systems, upgrade their bathrooms, bedrooms and kitchens, soundproof their rooms and improve the overall energy efficiency of their homes, the $394 billion a year in expenditure suddenly fades away.
With such a big industry, there are bound to be some changes, and trends involved. In this piece, we shall have a look at home improvement statistics as reported by Statista and use the facts to derive home improvement trends in the US.
1.  Market Value of Home Care Products Continues to Rise
The home care market in the US has always been huge. In 2015, this market was valued at $ 27,932.1 million in the US alone. This number is expected to continue growing and hit $31,000 million by 2020. This growth and value increase is courtesy of increased demand in eco-friendly and natural home care products.
More and more homeowners are readily purchasing bio-based home care products as they feel the products are more effective in cleaning. With the rise of global warming and climate change, there is also a need to go green.
For this reason, key players in the industry, including Unilever and P&G are manufacturing eco-friendly formulas to meet this demand. The products they engineer have environmental benefits and are just as powerful as synthetic products (https://www.mordorintelligence.com/industry-reports/home-care-market).
2.  Total Home Improvement Sales are on the Up and Up
By 2022, the home improvement sales are expected to hit 464.5 billion. The growth of sales in this industry has increased steadily since 2009.
Some experts in the industry attribute the steady increase to the integration of e-commerce stores. These stores have made shopping cheaper, easier and convenient for homeowners and improved the shopping experience. But on the flip side, more homeowners are starting to prioritize comfort in their home. This means that they are spending more on home improvement products than anything else.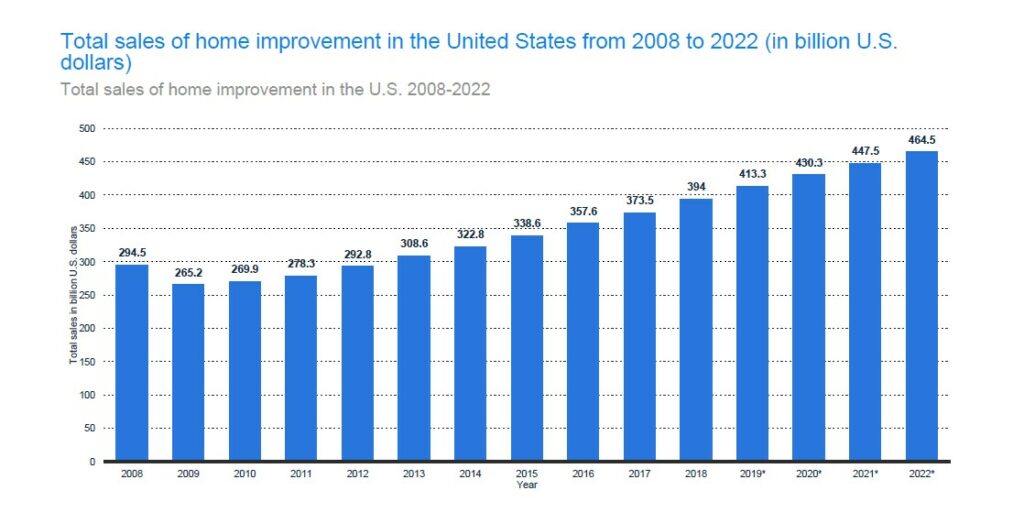 Today, it's not shocking to have a homeowner foregoing to purchase electronics and apparel for home improvement (https://www.marketplace.org/2016/02/24/world/whats-behind-solid-earnings-home-retailers)
3.  Hardware Store Sales Spike
In 2013, the total sales of hardware stores were $40.7 billion in the US. This figure is meant to skyrocket to about 58.1 billion by 2020.
Over the past couple of years, hardware store entrepreneurs have gone on record stating how difficult it is to build a successful store. And to an untrained eye looking at these figures, it is difficult to understand why this is so, right? Well, regardless of the reasons, general hardware sales are bound to continue increasing courtesy of increased home renovation projects in the US. As such, it is upon you, the entrepreneur, to position yourself and the business strategically to enjoy a slice of the multi-billion dollar pie.
4.  Home Centre Sales Steadily Increase
Home center sales in 2017 were $232.9 billion. They are expected to grow to $288.9 billion by 2020. One of the major contributing factors to the increased sales in these centers is the fact that they've embraced technology and implemented shoppertainement. Shoppertainment is a millennial trend where home centers are looking to give shoppers a unique and exciting experience in the shops – trying to match the feeling they get when they take the products home.
Courtesy of shoppertainment, studies show that close to 55% of millennials in the US window shop about 4 times a month and later make their purchase online. They go online due to the many discounts and coupons available. But whether they make an in-store or online purchase, the bottom line is that the home centers are making sales and will continue to do so.
Related Content:
21 Home Renovation Statistics and Trends
19 Wall Painting Color Choices For Every Season And The Best Brands
21 House Painting Tools and Accessories
5.  DIY Lumberyard Sales Increase
When it comes to choosing wood for the DIY project at hand, there are several options on the table. You can choose to go to big box stores of a lumber yard. According to Statista, more homeowners are gravitating towards Lumberyards. As a result, their total sales are increasing steadily over the years. By 2020, the sales are projected to be $92.7 billion.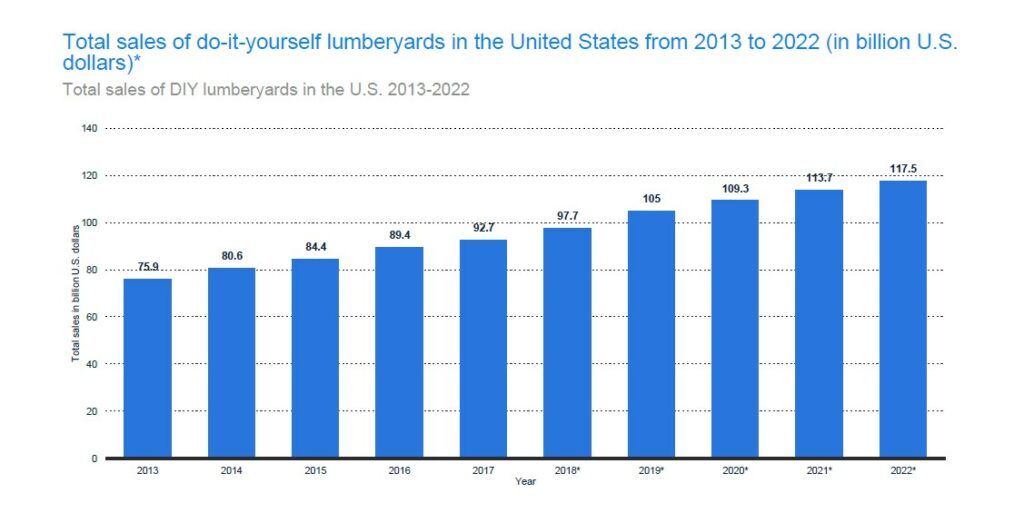 Homeowners have fallen in love with lumberyards because of the wide timber selection they have, their experts who assist you in choosing the right timber, the custom cuts (which are perfect for DIY projects) and overall better prices.
6.  Home Improvement Product Market
Home improvement products come in all forms of shapes and sizes. You'll need a bunch of different products to perform a home improvement project successfully. For instance, when you are house painting, you'll need paint (in different colors that match your desired theme), masking tape (to ensure your painting is neat), painting brushes, rollers, caulks, sealants, dry cloths and more.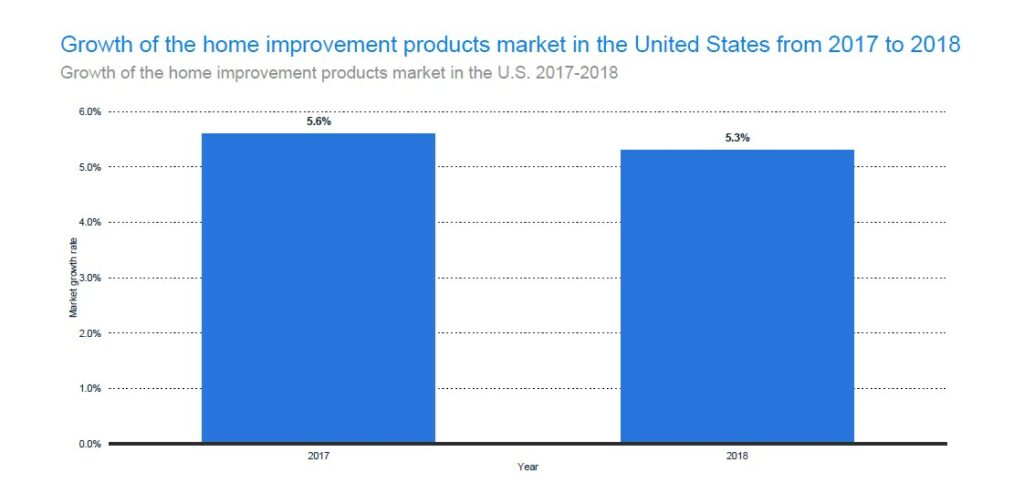 More and more home improvement products are being designed to make DIY home improvement projects a breeze. Generally, the home improvement product market is growing at a steady rate. However, according to Statista, the rate of growth dipped to 5.3% in 2018 from 5.6% in 2017.
7.  Homeowners are Loving Dream style Remodeling
If we are being honest, though homeowners are taking up remodeling projects more often today than they were a couple of years back, the projects are hectic, challenging and downright difficult. For this reason, many homeowners are opting to outsource entire remodeling projects to full-service remodeling companies like Dreamstyle Remodeling, Alure Home Improvements, Greater Daylon Construction, and many others.
Remodeling companies do everything a remodeling project requires and present homeowners with finished products for their enjoyment. However, they are not all ranked the same. Luckily, here are some statistics to guide you: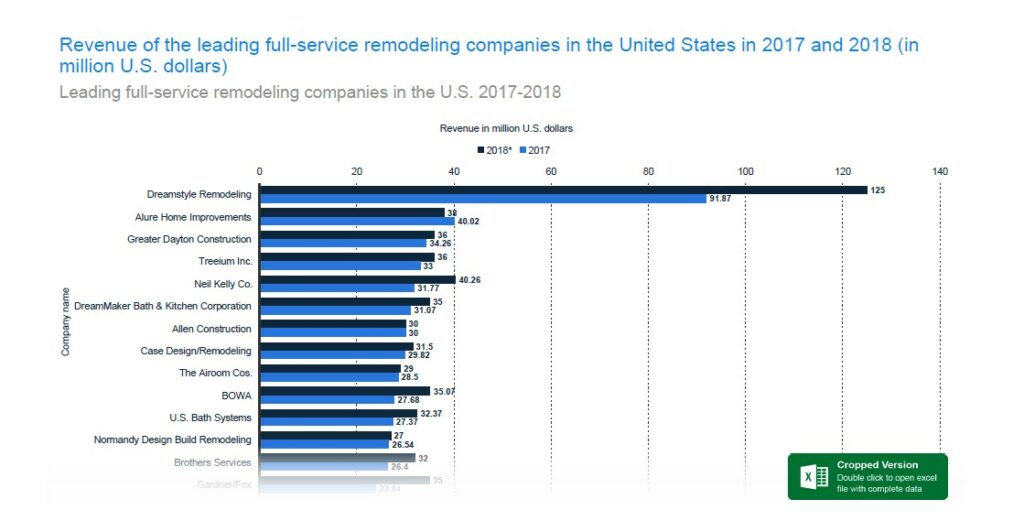 According to Statista, Dreamstyle Remodeling is the number one remodeling company based revenue. Given that the company opened shop in 1989, it has a wealth of experience in the industry and as such, the success it enjoys is expected. But this does not negate the fact that it has worked hard to be where it is. If it were easy to please renovating homeowners, remodeling companies would be mushrooming and succeeding overnight.
8.  Replacement Contractors Come in Quite Handy
Owning a home is a huge achievement for many homeowners. However, as the years fly by, the excitement of owning your own home and the real cost of owning it sets in. Yes, unfortunately, buying a home is not the final destination.
Over the years, homeowners need to do quite a bit of replacement (of systems, electronics, and structures). When this happens, you'll need to have a handy replacement contractor by your side to help you make the right choices and get the job done right.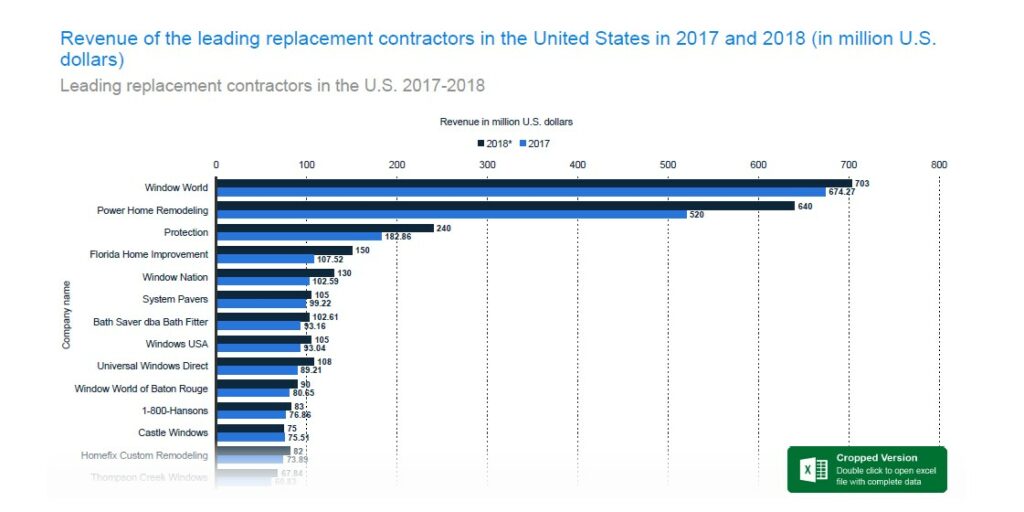 For many people, replacement contractors are simply marketing machines on the prowl for uick fix' tasks. But that is not entirely true. Their role and impact on the home improvement industry is felt. Here are the figures to back this up:
According to Statista, the top replacement contractor (Window Word) made a whopping $703 million in revenue. Other companies did quite a substantial amount of revenue as well with the companies in third and second place doing $640 million and $530 million respectively.
9.  Revenue Generated by Home Improvement Chains in The US (2017)
If you were to question random homeowners about a home improvement chain/store they know, chances are they'll call out Home Depot or Lowe. These are the two most successful and renowned home improvement companies in the US.
In 2016, statistics show that the two contributed to 41% of all sales in the industry (https://www.pymnts.com/news/retail/2016/home-depot-lowes-sales-consistency/). And according to Statista, Home Depot did about $100.9 billion in 2017 and Lowe $68.9 billion. The second runners up (Menards) did $10 billion.
The reason why Home Depot and Lowe are doing so great is that they have better inventory management and supply chain system. They invest heavily in their store experience and take advantage of mobile technology to boost their sales.
10.  Hardware Sales on a Steady Rise – Finally
Over the years, the hardware store sales in the US have been fluctuating and registering no consistent growth year over year. However, since 2010, the hardware stores in 2010 have been on a steady growth curve.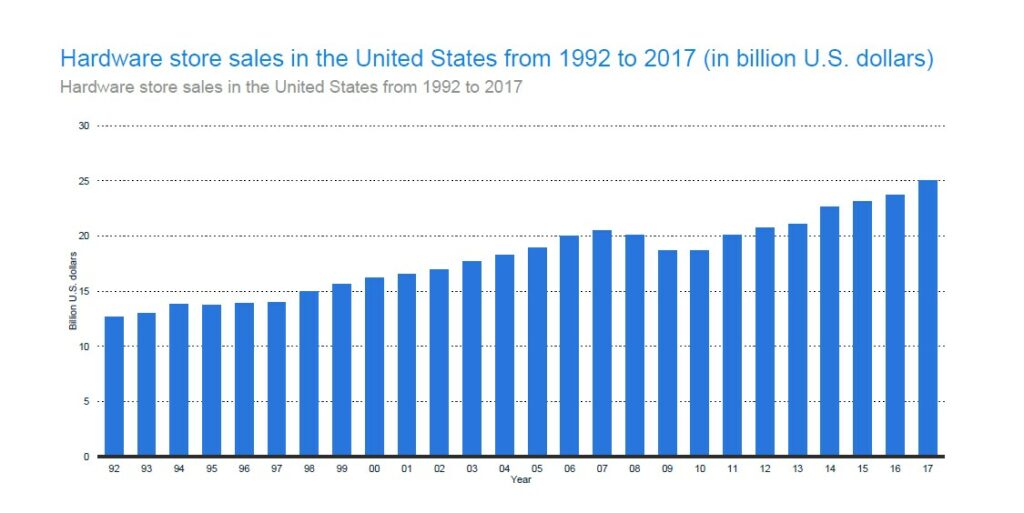 In 2017, Statista records that the sales were at $25 billion, which was an impressive increase from $17 billion in 2010.
11.  Garden Equipment, Building Material and Supplies on Demand
According to Statista, 2009 and 2010 wasn't a great year for hardware stores in the US. Their rappy' revenues were a clear image of how individual products like building material and garden equipment were doing. Collectively, these products did slightly over $250 billion in 2009 and 2010. This figure increased by over $100 billion by 2017.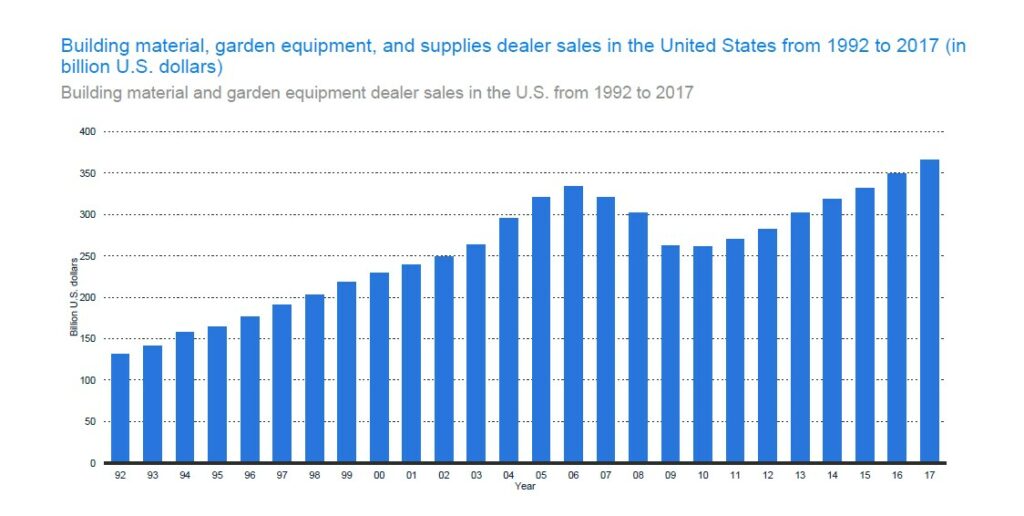 12.  Wallpaper and Paint Stores in 2017
Changing wall covering is by far the easiest way to update any room. You can choose to use wallpaper or paint or a combination of the two, depending on various factors, including location, cost, and durability.
If you are looking at a complicated pattern or simply don't have the time for it, you are better off hiring painters in Bergen County NJ to do the heavy lifting for you.
According to the Bureau of Labor Statistics, about 45% of painters in the US are self-employed.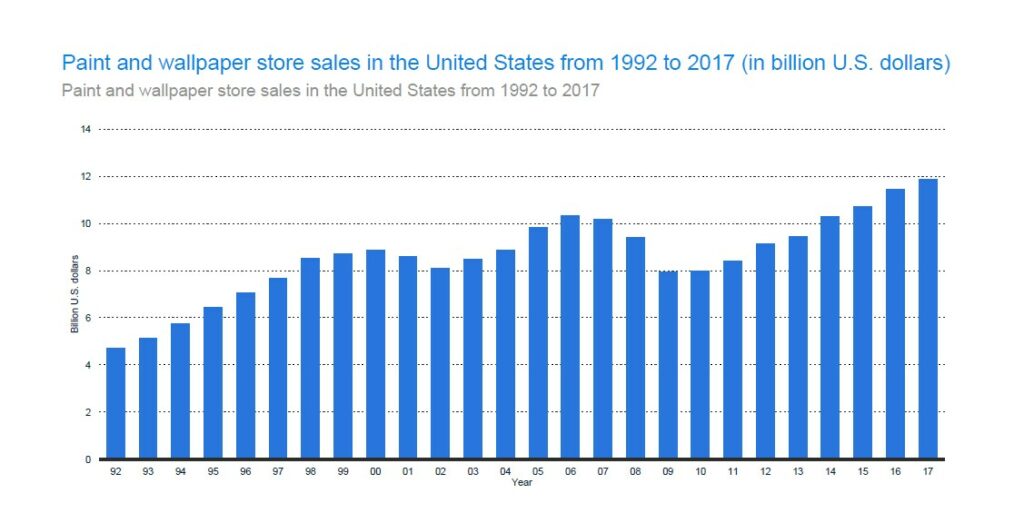 With that said, Statista shows that paint and wallpaper stores are increasing revenues every passing year. In 2017, the stores collectively did slightly less than $12 billion in 2017, which was a great increase from $8 billion in 2010. The fact that homeowners are planning for painting home improvement projects has largely contributed to this increase in revenue over the years.
13.  Average Spend on Home Improvement Per Year
We all know that homeowners are into home improvement projects. But just how much are they spending on the home improvement projects every year? Well, according to Statista, in 2017, homeowners spent about $6,649 (on average) renovating their home.
However, according to a report by Home Advisor, the older generation is forking out more cash to make these upgrades than Generation X and Millennials are. The Gen-X and Millennials are spending $5,693 and $6,582 respectively on the renovations. And here's the kicker – even with the lower spend, Millennials seem to be completing about 18% more projects than the Gen-X.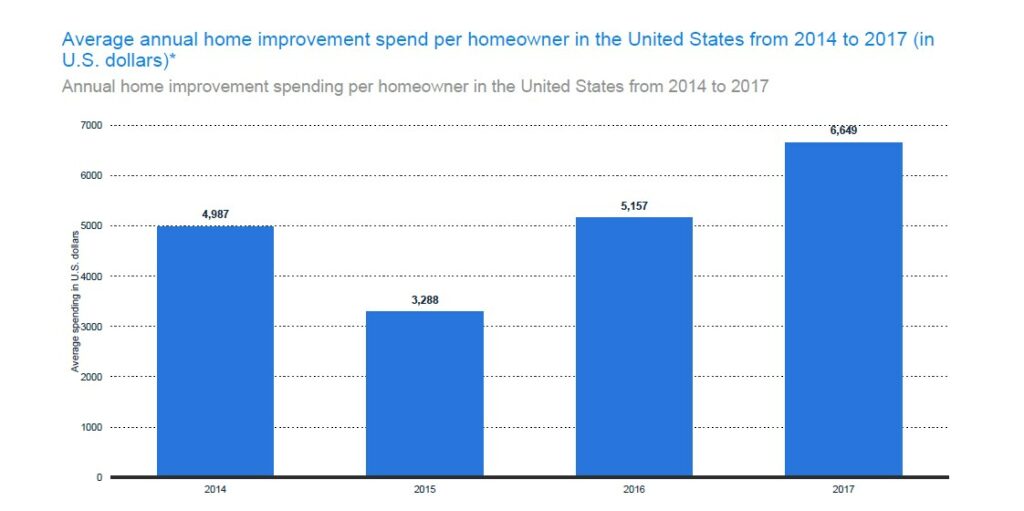 This is because the millennials don't have a lot of money to start with. As such, they are forced to make due with what they have. This often means getting fixer-upper homes that they upgrade over time (https://www.homeadvisor.com/r/true-cost-report/).
14.  Popular Home Improvement Projects
According to a survey conducted by the Joint Center for Housing Studies of Harvard University, landlords and homeowners spent a whopping $424 billion making home improvements back in 2017 (https://www.jchs.harvard.edu/research-areas/reports/improving-americas-housing-2019).
That was a significant increase from 2016's expenditure of 397.8 billion. Now, while you might think that these figures were driven by HGTV inspirations and other expensive renovation trends, the report disagrees. It states that the high spend is courtesy of old houses built years ago.
Now, of all the home improvement projects homeowners could pick up, a few came up top. According to Statista, 36% of homeowners who did some renovations did some landscaping work, 28% did the replacement of old and faulty appliances, while 22% got into interior house painting. The other home improvement projects that were popular in 2018 included:
•  Bathroom improvements
•  Replacing furniture
•  Replacing flooring and carpets
•  Kitchen improvements
•  Repairing the roof
•  Redecorating room and homes
•  Painting the exterior of a home
15.  Planned Home Improvement Projects
According to Statista, house painting NJ ranks top in the list of projects that homeowners planned for in 2018. But why is this? Well, according to HomeGain, painting your home is by far the most cost-effective and easiest way of increasing a home's value as well as look. Heck, it's also the simplest.
Painting the interior has a 107% ROI while exterior house paint has about 55% ROI (http://blog.homegain.com/home-improvement-surveys/homegain-2012-national-home-improvement-survey-results/).
And here's the best part – the cost to paint a house is $967 (interior) and $1,406 (exterior). These costs result in a $2,001 and $2,176 value increase respectively. However, to achieve such numbers, a homeowner needs to get the color scheme right (which requires planning, research, and consultation).
66% of real estate agents recommend house painting while 63% of them recommend a simple paint touch-up (https://www.nar.realtor/research-and-statistics/research-reports/profile-of-home-staging).
16.  Home Improvement Planned Expenditure
Home Improvement projects are never ending. And while some projects catch homeowners off guard, over time, they've learned how to plan for the aid projects.
In light of this, in 2017, Statista reported that a large percentage of homeowners planned to spend less on home improvement in the following year. However, 35% of homeowners stated that they plan on spending roughly the same amount they spent in 2016 while 28% stated they intend to spend a little more than they did in the previous year.
Of course, these plans are driven by the changes homeowners and the amounts of money they have at their disposal.
17.  Top Home Improvement Store Based on Customer Satisfaction
It is difficult to find a company (in this case home improvement store), that has a perfect balance of home improvement product inventory and customer satisfaction. If you are a sucker for a great treatment in stores, you are usually at a loss. Surprising, The Home Depot and Lowe, the leading home improvement stores based on sales, do not top the charts of customer satisfaction.
According to Statista, they come in 5th and 3rd respectively. Statista shows that Menards tops the charts based on customer satisfaction. So, if you are looking to paint your home and want great customer service, you now know exactly where you should go.
18.  Number of Stores of Popular Home Improvement Retailers
One would think that the more stores a home improvement retailer have, the more sales they make. Well, this is not true. Actually, according to Statista, by 2017, Ace Hardware had a whopping 4,418 stores, The Home Depot 1,968, while Lowe Companies had 1,839 stores. This is such a huge difference.
However, looking at the revenue charts (slide 15), Ace Hardware doesn't feature anywhere on the list of companies that lead in home improvement sales in the US. Home Depot and Lowe's come in at the first and second place respectively.
19.  Most popular Online Stores in the Garden, DIY and Pet Segment
Ever since the advent of the internet, businesses have moved online. As such, for entrepreneurs to taste success, they have to stay on top of online shopping and e-commerce trends. This is more crucial in 2019 than in any other year.
Most e-commerce platforms offer customers discounts and coupons to help them to save more. Additionally, the websites invest a lot in providing their customers with great user experience.
Now, according to Internet Retailer's Analysis in 2018, consumers spent a whopping $517.36 billion on these online platforms. This was a 15% increase from 2017. These figures don't include home improvement products and everything else aside from items not normally bought online like fuel, food, and automobiles (https://www.digitalcommerce360.com/article/us-ecommerce-sales/).
With such sky-high figures, there are bound to be many players driving the industry. Well, there are many – millions actually. However, according to Alexa Rank, there are about 110,000 e-commerce websites that are generating meaningful revenue on the internet.
According to Statista, the top online stores in the DIY, Garden, and Pets segment are Chewy.com, Amazon, Homedepot, Lowes, and Cotsco (in order of their popularity). You probably thought Amazon was first place, right:?
20.  DIY Sales Categorized
The DIY phenomenon is not new. It has been around for the longest time. However, like with everything else, the internet (especially social media), accelerated its growth and transformed it into a phenomenon with endless possibilities.
According to Technavio, by 2021 the DIY world should be worth about $13.9 billion (https://www.businesswire.com/news/home/20170105006255/en/Global-DIY-Tools-Market-Forecast-Grow-USD).
People, homeowners, especially, are turning into DIYers now more than ever before. However, industry experts claim that we haven't scratched the surface.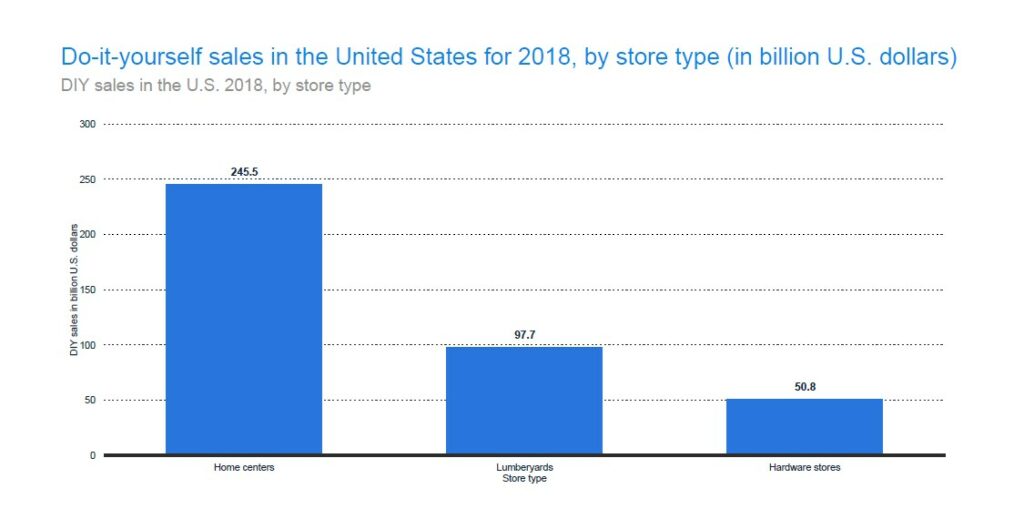 But why are people so fascinated by DIY projects? According to the business development lead at Hometalk, Moe Mernick, it's all about the experience and excitement of building your own home that has got people hooked. The freedom to walk into a Homedepot store, choose the equipment, your favorite paint, and the decorations you want is exhilarating for many.
With all these factors considered, Statista reports that DIY sales in the home improvement sector in the US generate billions in revenue. For instance, Home Centers generated $245.5 billion, while Lumber yards (the stone type) generated $97.7 billion in 2018. Hardware stores come in last at $50.8 billion. Collectively, the three stores generated about $394 billion in 2018.
Keeping up with the home improvement trends in the 21st century is more important than it was ever before. Houses built decades ago (those that were dream houses back then), have experienced some significant wear and tear. They need to be repaired to have a modern shine. But taking on a home improvement project is easier said than done. There are a lot of things that you need to consider. The statistics above are designed to guide you in the things to consider and fill you in on what other homeowners are doing, especially when it comes to painting.
And speaking of painting, while you can turn it into a DIY project like most homeowners are doing, we recommend that you get a painter NJ to handle the project for you. Hiring a professional painter will result in the successful completion of the project. You'll also be advised on the current painting trends for both exterior and interior painting jobs.
Related Content:
21 Home Renovation Statistics and Trends
19 Wall Painting Color Choices For Every Season And The Best Brands
21 House Painting Tools and Accessories
And with that, we hope that the statistics shed some light on what you should expect from the industry and how you should handle your home improvement project altogether. Feel free to comment below with questions or additions that you feel may be left out in this piece.